Well, it's the last day of February. We went through 256 days of January and sped right through the month of February. I'll be honest, the levels of Blackness this Black History Month was at an all-time high. I don't think we've been THIS excited for Black History Month in awhile. As most of us know, Black history is an every day thing and we don't need to be regulated to just one month: we make history every single day!  I do want to take the time to acknowledge the awesomeness of this particular BHM. These are just a few of my favorite moments from this wonderful month of #BlackExcellence:
1) Black Panther- Do I really need to explain the levels of awe that I experienced with this movie? The palpable excitement prior to be the release should've been an indication. It's to the point where I give other Black folx the #WakandaGrip. Seeing so many beautiful Black people on screen, watching the movie with other beautiful Black people (it was a very special moment I must say), and sitting next to my mentee made me FEEL how important this movie was to our culture. Of course the conversations/discussions after the film were insightful, basic, and fun through it all. I'm planning to see it a few more times  just to make sure I pick up more of the subtle dopeness in the movie.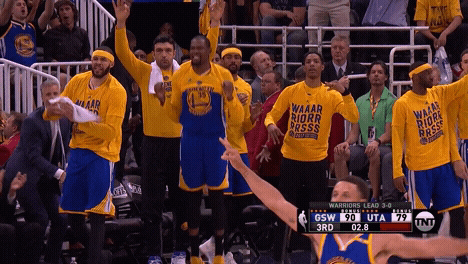 2) Golden State deciding to skip out on going to their White House Championship Celebration: I know that there are some people that aren't too keen on Steph Curry and Co., but you have to admit he's just a good guy. I like how he voiced his opinion about the Warriors not going to the White House and standing by his feelings about 45. Of course, 45 tried to flip it and say that the offer was rescinded, but we know the truth. As a result, the Warriors are going to check out the National  Museum of African-American History and Culture with local DC students (jealous). Golden State is showing what side of history they're on and I love it.
3) The Obamas living their best lives: Now, I mentioned this in an earlier article, but I still feel a way about Barack and Michelle just glowing while the rest of us are a bit gloomy. I wonder if they know something that we don't. Regardless, they deserve to be happy and enjoy each other after the hellish eight years that the United States put them through. Hell, Michelle has a whole book coming out soon which I'm definitely going to pick up. We weren't worthy.
4) Watching my friends' achieve their dreams: When you think about Black History Month, it's easy to look from a distance to see people doing great things, however, it's better when you are up close and personal to watch greatness. All this month, I'm watching friends writing their hands off en route to finishing their dissertation/doctorate in May,  put energy into their business, and even start a blog to uplift Black women. These folks are making strides and just happy to see them all thriving in everything they do. Inspiration at its best. When one of us wins, we all win. 5) Ron Clark Academy student, Jaycob, turning up after finding out that his entire class was going to see Black Panther: I already mentioned how important Black Panther was/is to our culture and nothing is more telling than watching this young Black boy exude pure JOY with the news he received about going to see the movie. When I need a pick-me up, I watch that video. It's just so awesome to see this next generation of leaders show peak levels of Blackness and excitement at the same time. Thank you Jaycob and I hope the movie was everything that you thought it would be!
These are just a few of the top moments for me during this wonderful Black History Month! What would you add to the list?